I just LOVE decorating tins!! I have a tin-thing lol!
This tin was decorated as part of a Design Team Challenge over at
Little Scrapbook Shop
(LSBS). The DT were challenged to create something using these papers from My Minds Eye (MME) but it had to be OPT (Off the Page). So I chose to decorate a small ProvoCraft tin for blank ATCs.
The turtle stamp is from October Afternoon. He's pretty cute huh! Other products used: MME Out & About patterned papers, ribbons are KI Memories Pop Culture Sashes (distressed with Memories Art Print Brown inkpad), American Crafts Thickers Alpha Stickers, Queen & Co felt fusion, black brads.
This tin was for a Cybercrop Challenge, also over at
Little Scrapbook Shop
. The tin wasn't part of the challenge, but I loved decorating it, all the same.
Products used are: MME Every Day Tango range of patterned papers, Kaiser bling, stamps from Kelly Panacci and Autumn Leaves, ribbons by Stampin' Up! and Finishing Touch Ideas, letters from MME Every Day Tango range, covered with Glossy Accents (dimensional medium).
This is an altered Maya Road Lunch Tin. This holds my mats for my Cuttlebug. Just the right height. Products used to cover the tin: Kaiser To Have & To Hold patterned papers, Kaiser and generic bling, paper frills from Doodlebug Design, American Crafts Thickers alphabet stickers (all available at
LSBS
)
This is a tiny Maya Road Tin that we were challenged to alter using our DT stash. Its such a cute little tin. Products are the same as the above tin, except for: Bella Flower and Queen & Co bold flower brad.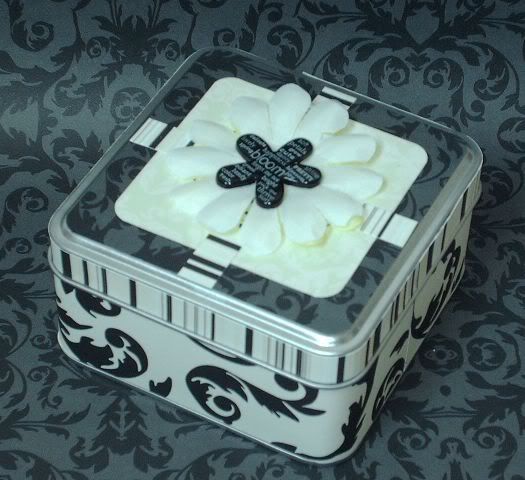 And last, but not least, my little Bandaid tin. This lives in my handbag and has come in handy on many occasions - it is really a mini first aid tin, as it contains bandaids, antiseptic cream, headache tablets and antacid chews. Cool huh? Products used: Provocraft Bandaid Tin, Prima flowers,
American Crafts Mini Marks Rubons - Ned Jr, blue paint, variety of ribbons, Kaiser bling. The gorgeous patterned paper I won in a raffle for the October Girls Night In! It is from an Urban Lily 6x6 paper pad. YUMMY! (sorry for the slightly blurry pic!)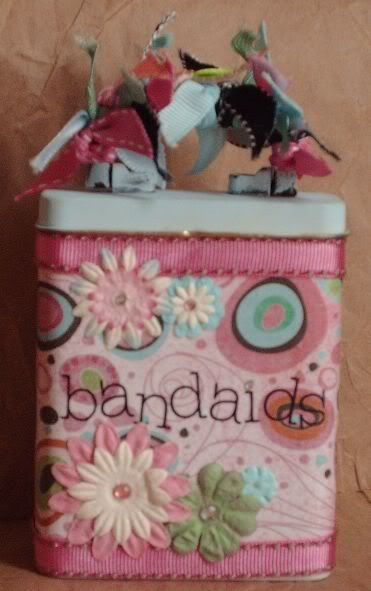 Thanks for stopping by!!
Deanne
xx